Bookkeeping Automation with FastBill
As a business owner, you should focus on the most important tasks in your business. Invoicing, data entry, expense management, and other bookkeeping chores often take a lot of time. With an accounting automation tool like FastBill, many of these tasks can be automated.
Before you make the decision whether FastBill is suitable for you, you should know some important points. We not just tested the tool for you but also gained valuable insights from our clients who are actively using it for their bookkeeping.
In this blog post, we will share our experience and everything you need to know before deciding if FastBill is the right bookkeeping tool for your business.
What is FastBill?
FastBill is a software that supports self-employed people in creating invoices, entering receipts, and simplifying banking. It helps you automate part of your business activities and keep track of your key figures at all times.
With the help of the export function, invoices, receipts, and proof of transactions can be sent to a tax advisor. Therefore, the tool is especially suitable for self-employed people who want to have their accounting done by a tax advisor. Here FastBill can be an ideal tool to prepare. 
What features does FastBill include?
FastBill includes a variety of features that can simplify and automate processes for your finance team. You can find all the features on their website as well.
The most important functions are:
Accounts payable: Write and send invoices
Dunning
Capture and categorize receipts
Collect receipts
Manage clients
Banking with payment reconciliation
List of products and services
Accounting with tax consultant access
VAT and financial evaluation
Time registration
Over 30 partner integrations
API and Zapier app
Real-time reports and analysis
Manage access rights 
How much does FastBill cost?
Depending on what your goals are and how far you are in your business, you can choose between three different plans. These differ in features and monthly costs. You can find the current prices on FastBill's website here. In this section, we will briefly introduce them to you.
FastBill Starter
With FastBill Starter, you get all the basics you need to start your successful business.
This includes:
Receipt & document management
Offers & Invoices
XInvoices
Custom invoice layout
Time tracking
DATEV export
Tax advance return (UStVA)
1 bank account
Automatic receipt recognition
Mobile app
1 user
You can get this package for as little as EUR 9.99/month. Automated document import and dunning process can be purchased additionally.
However, no DATEV export or categorization of your income and expenses is possible. If you need these features right from the start, you should go for one of the other two plans.
FastBill Pro
The FastBill Pro package allows you to automate your business to a great extent and is best used in combination with a tax advisor.
The plan is available from EUR 29.99/month. In addition to all the components of the Starter package, you get the following additional features:
5 bank accounts
Expense report
Receipt recording with e-mail inbox
Customer management
DATEV export
5 Users
Automated document import and dunning process can be purchased additionally
FastBill Premium
FastBills' Premium plan is the most comprehensive version and allows you to fully automate your bookkeeping. You can get the Premium plan from EUR 59.00/month.
With this offer, you get these additional features:
Automatic import of receipt
Automatic dunning process
Categorization of your income and expenses
Monthly status reports
Furthermore, a digital tax advisor can take over your entire financial accounting at an additional cost.
Unfortunately, we couldn't gather more info about the premium plan as their consultant didn't show up for our meeting.
Does FastBill provide access for my tax advisor?
Above a certain size, it usually makes sense to outsource important tax and accounting tasks to an expert. FastBill supports you with preparing bookkeeping work for your tax advisor.
For example, if you want to prepare the advance VAT return or the annual financial statement, the interface to your tax advisors' accounting software DATEV is an important function for you.
With the help of the export function, all bookings can be sent directly and DATEV-compliant to your accountant. This way you can save a part of the costs for the service of your tax advisor.
Which eCommerce integrations does FastBill have?
If you have an online store, you will probably have a lot of receipts and create a lot of invoices. Here, add-ons with other tools play an important role.
With FastBill you can automate these accounting processes to a large extent. In the following, we will briefly introduce you to their eCommerce integrations:
WooCommerce. If your online store runs with WooCommerce then the plugin WooInvoices is the right choice for you. Connect FastBill via API key and automate your invoicing.
Marketplaces. With FastBill and the Billbee integration, you can automatically create legally compliant invoices for marketplaces like Amazon or eBay. Furthermore, you no longer have to deal with document management. They simply get imported to FastBill.
Jimdo store. If you have a Jimdo store, you can easily synchronize it with FastBill.
Does FastBill have a time-tracking feature?
If you have many projects going on simultaneously and bill your customers on an hourly basis it is important that working hours are recorded as accurately as possible.
With many bookkeeping tools, third-party programs must be used for this purpose. FastBill has integrated this function directly into its software and working hours can be recorded and evaluated quickly and easily.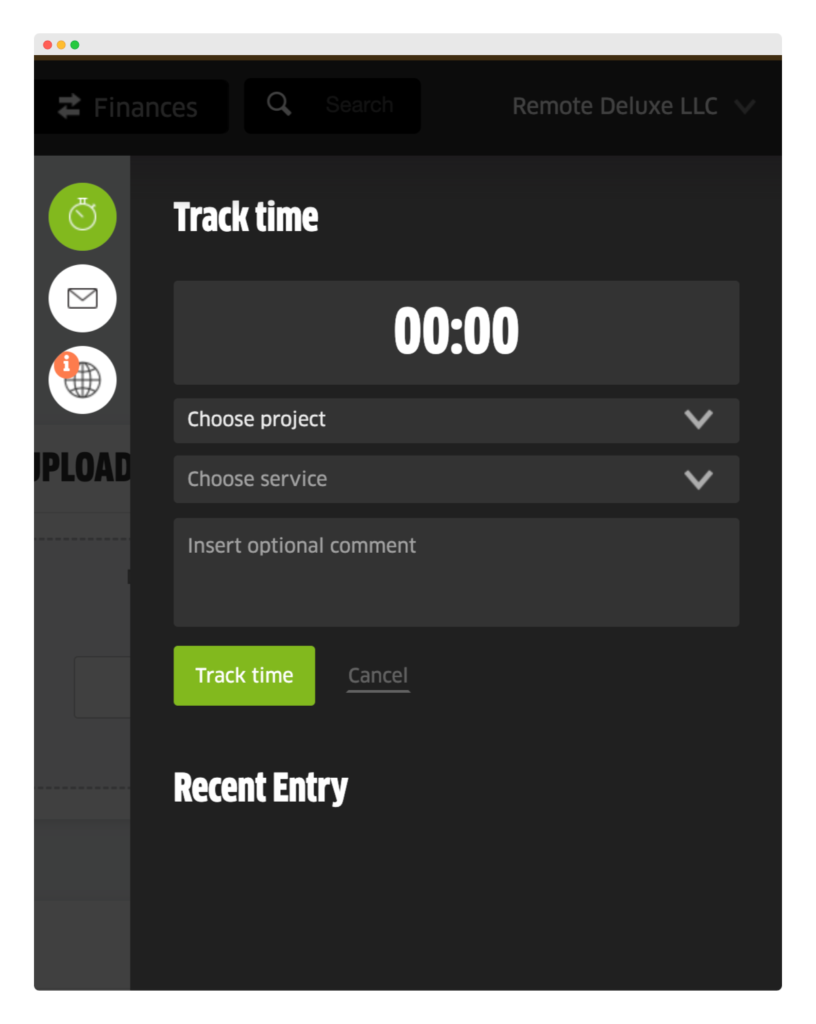 If time tracking with FastBill is not enough for you, specialized providers such as Clockodo offer comprehensive options for recording working hours. These apps not only offer mobile apps, but also comprehensive possibilities around team and project management.
Thanks to an integration with FastBill, writing invoices remains as simple as usual.
How is FastBill's customer support service?
If you have any questions regarding FastBill, you can always contact their support team via contact form or by email.
In addition, FastBill offers a knowledge base that explains the features and the setup of the tool in detail. However, their documentation is only available in the German language.
What are the pros and cons of FastBill?
FastBill comes, like every other tool with some advantages and disadvantages. Here is a list of things they do better than their competitors and which important features are missing.
PROS
With the Stripe and PayPal integration, your customers can pay invoices online in just a few clicks
Prices and currency can be set individually for each customer
In-app time tracking
Complete accounting service can be requested
CONS
No onboarding call is provided
Bank transactions can't be imported via CSV file so if your payment provider isn't supported, FastBill isn't for you
No option to manage suppliers
Common bookkeeping automation features are only available in the more expensive Pro or Premium version
How is the experiences of FastBill users?
Some businesses love the service of FastBill and speak highly of it. Furthermore, the clear and simple user-friendly interface is praised, even though we don't agree with this. Ultimately it is always a matter of taste.
However, some customers complain about the poor availability of their customer support. If you decide to give FastBill a try, we recommend that you reach out to them yourself with your questions and concerns. This way you can form your own opinion.
What are the alternatives to FastBill?
If FastBill didn't convince you right away, you don't have to worry! There is more bookkeeping automation software on the market. Click on the list of alternative tools below and find out what else is available.
FASTBILL – THE BOTTOM LINE
If you only want to prepare the bookkeeping for your tax advisor and don't miss any features – go for it! We usually do not recommend it as a bookkeeping tool because we miss very important features.
If you want to outsource your entire bookkeeping completely, then their full Accounting service might give you peace of mind while paying a fixed monthly rate.
You can test FastBill at any time with their 14 days free trial, gain experience, and form your own opinion. You're welcome to share your experience in the comment below.
FastBill can be a good choice for very small businesses or freelancers without any special requirements or the slightest knowledge of bookkeeping.
Schedule a meeting!
Together we will find the perfect bookkeeping automation setup tailored to your business needs.